UnityPoint Health at Work
UnityPoint Health at Work extends the vision of "Best outcome for every patient every time." to local employers by providing customized employer health solutions for their employees.
Employer Health Solutions
Employer Health Solutions Access to convenient, customized personal and occupational health solutions create efficient and transparent access for employees that lower healthcare costs for the organization while improving the health and well-being of the employer's population.
Rethinking Value in Employee Health Care
Employers are losing up to 1.3 trillion dollars in productivity due to chronic disease. That may be why, more than ever before, employers are focused on the total health of their employee population. Factors such as good physical condition, good mental health as well as properly managed chronic conditions lower employee illness and injury.

Companies with high injury rates have long recognized the value of having an occupational health provider onsite to address injuries, reducing downtime and treatment costs. But traditionally, employers have used a "siloed" approach when offering wellness, primary care and occupational health services. These boundaries have limited the effectiveness of each initiative.
A Total Health Approach
Total Health Clinics offer a holistic approach to treating employees. Onsite clinics that offer primary care and wellness services in addition to occupational medicine increase the value of providing healthcare at the work site. Primary care services include acute care, preventative care and disease management.

Addressing the "whole person" enhances the opportunity to create a healthier workforce, which in turn becomes a safer workforce. Strong primary care services are associated with improved quality of care and reduced medical costs. Onsite or near-site clinics shorten the distance between patient and provider, making it more convenient and less costly for employees to access care.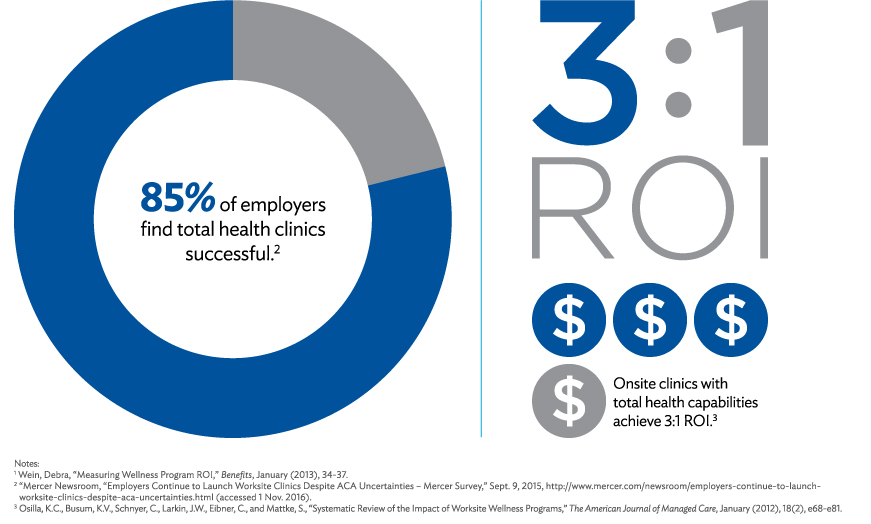 Key Benefits for Employers and Employees
For Employers
Direct-to-employer programs from At Work offer employers benefits that lower healthcare costs for the organization while improving the health and well-being of the employer's population. Employees become healthier, happier and more productive.
Healthier workforce
Lower health care costs
Improve ROI
Fewer work days lost
Trend reporting and tracking
Lower disability claims
For Employees
Employees lead busy lives. Employer-based services from At Work help employees manage their time and their health, freeing them to focus on work.
Convenient access to care through onsite and near site locations
Accurate and fast injury diagnosis by licensed, certified providers
Injury prevention programs
Accessible urgent care services
Access to a wide array of wellness/illness services
Customizing Your Onsite Clinic and Staff
UnityPoint Health at Work will work with you to customize the right medical providers and mix of services to meet the needs of your company and your unique workforce. While a Total Health Clinic provides the greatest opportunities for health improvement, employee engagement and return on investment, you may wish to focus on either primary care or occupational medicine, with the opportunity to add additional services over time.
| | Total Health Clinic | Primary Care Clinic | Occupational Medicine Clinic |
| --- | --- | --- | --- |
| Chronic disease management | ✓ | ✓ | |
| Short and long term disability administration | ✓ | ✓ | |
| Virtual care | ✓ | ✓ | |
| Health and wellness programs | ✓ | ✓ | |
| Behavioral health | ✓ | ✓ | |
| Case management | ✓ | ✓ | ✓ |
| Injury/illness care | ✓ | ✓ | ✓ |
| Injury prevention programs | ✓ | | ✓ |
| Post-offer physical exams | ✓ | | ✓ |
| Transition and return to work programs | ✓ | | ✓ |
| Respirator examinations and fitness testing | ✓ | | ✓ |
| Medical surveillance physical exams | ✓ | | ✓ |
| Drug and alcohol testing | ✓ | | ✓ |
| D.O.T. exams | ✓ | | ✓ |
Expert Clinical Staff
Our employer-based health programs are provided by trained and certified medical professionals who understand your business and will provide the highest level of care for your workforce. Our staff understands different types of work stressors and can implement specific programs to keep your workforce healthier as well as more productive and engaged.

Our access to licensed, professional providers is unmatched. Backed by the resources of UnityPoint Health, we can match our providers to your exact requirements.