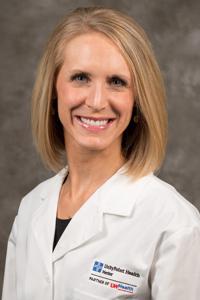 Nikki Bradley, MPT, OCS, PT
---
Accepting New Patients
UnityPoint Provider
Gender: Female
Languages Spoken:
Office Hours
Sun: Closed
Mon - Tue: 7:00AM - 5:30PM
Wed: 7:00AM - 6:30PM
Thu: 7:00AM - 5:30PM
Fri: 7:00AM - 5:00PM
Sat: Closed
About Nikki Bradley, MPT, OCS, PT
Education
Degree
St. Louis University: Masters of Physical Therapy
St. Louis University: Bachelor of Science - Exercise Science
Biography
Personal Interests:
Nikki has spent several years of her career working as a traveling physical therapist, along with her husband who is also a physical therapist. This allowed her the opportunity to work in a variety of settings across the country and develop her special interests as a therapist. In addition to clinical practice, she enjoys teaching and working with clinicians nationwide as an ASTYM course instructor.
She loves every aspect of being a mom to her toddler, especially seeing him enthusiastically explore the outdoors. She enjoys running, yoga, and working through a bucket list of National Park backpacking trips with her husband.