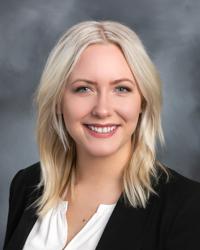 Hospital Affiliations:
Gender: Female
About Makenzie Kreber, ARNP
Education
St. Louis, MO
Maryville University: Master of Science in Nursing - ARNP
Board Certifications
ARNP


American Association of Nurse Practitioners
Biography
Why did you become a physician/provider?
I first became a nurse because I wanted to help people during their most vulnerable and uncertain times. I decided to transition into a provider role so that I could do exactly that but on a much larger scale.
As a provider, what is your medical philosophy?
As a provider, my medical philosophy is bringing the combined art and science of nursing into a provider role to positively affect patients and their outcomes.
What type of care/clinical interests are you most passionate about?
I am most passionate about serving and advocating for the adult/gerontology community with progressive and evidence-based practices.
Why did you choose your specialty?
I choose the specialty of nephrology because the renal system is so remarkable in what it does for the body. There is a vast amount of information available and research being done to enhance what we can offer as providers. That excites me!
What qualities best describe the care you provide your patients?
Qualities that would describe the care I provide to my patients would include compassion, empathy, honesty, and commitment.
Being a healthcare provider, what drives/motivates you each day?
The opportunity to positively affect someone's life; that it be with a smile, education, the opportunity to express concerns, or a treatment plan is what motivates me each day.
What is the most important thing patients should know about you and your practice?
The most important thing I would like patients to know about me and my practice is that I strive to do the best for you each and every day. I am committed to my patient's health and wellbeing.