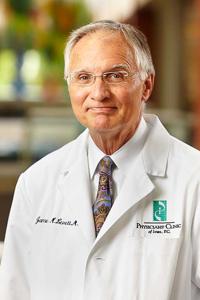 James M Levett, MD
Cardiothoracic Surgery
Vascular Surgery
---
Hospital Affiliations:

Finley Hospital
St. Luke's Hospital

Gender: Male
Languages Spoken:
About James M Levett, MD
Education
Medical School
University of Iowa College of Medicine: MD

Residency

University of Chicago Hospitals & Clinics General Surgery, Cardiothoracic Surgery

Fellowship

Duke University Medical Center Electrophysiology Lab
Board Certifications
Surgery


American Board of Surgery

Thoracic and Cardiac Surgery


American Board of Thoracic Surgery
Biography
Schedule
Dr. Levett will see referred patients at UnityPoint Health - Heart & Lung Surgery, within the Dubuque Cardiology Clinic, the 4th Wednesday of each month, 8:00 a.m. - 12:00 p.m.
UnityPoint Health - Heart & Lung Surgery
350 N. Grandview Ave., G3300
Dubuque, Iowa 52001
(563) 589-2557
News and Information
Dr. Levett saves a man's life through quadruple bypass surgery. To read more click here.
Inside St. Luke's OR: When is open heart surgery needed? Drs. Levett and Sundermann explain.
Dr. James Levett on why experience matters for heart surgery
Why Choose St. Luke's Open Heart Surgery
Lifesaving trip to the ER: Shortness of breath leads to open-heart surgery. Read Susan's Story
PAUL'S HEART STORY: Don't ignore the warning signs of a heart attack!
A Young Survivor's Heart Attack Story
About Dr. Levett
As a cardiothoracic surgeon with more than 40 years of experience, Dr. Levett has performed more than 5,000 cardiac surgery procedures during his career and is an author and/or contributing author of more than 100 original articles, books, and scientific abstracts.
Dr. Levett was instrumental in building and refining the open-heart surgery program at St. Luke's in Cedar Rapids which has earned repeated, national recognition for the quality of its heart care program.
Dr. Levett has held numerous physician leadership positions including Surgical Director of Perioperative Services at St. Luke's and is the CEO of Presaj, Inc., a company that provides personalized risk assessments for patients to assist providers in preventing medical complications.
In addition, he recently completed a six-year term on the Linn County Board of Public Health. He is the past chair of the Healthcare Division of the American Society for Quality and is the advisor for the Society of Thoracic Surgeons on the Relative Value Update Committee of the AMA.
Dr. Levett has also been recognized for his work on behalf of the Society of Thoracic surgeons by receiving the distinguished service award from the society.