Later-in-Life Nursing Student Credits DEI Scholarship for Feeling of Belonging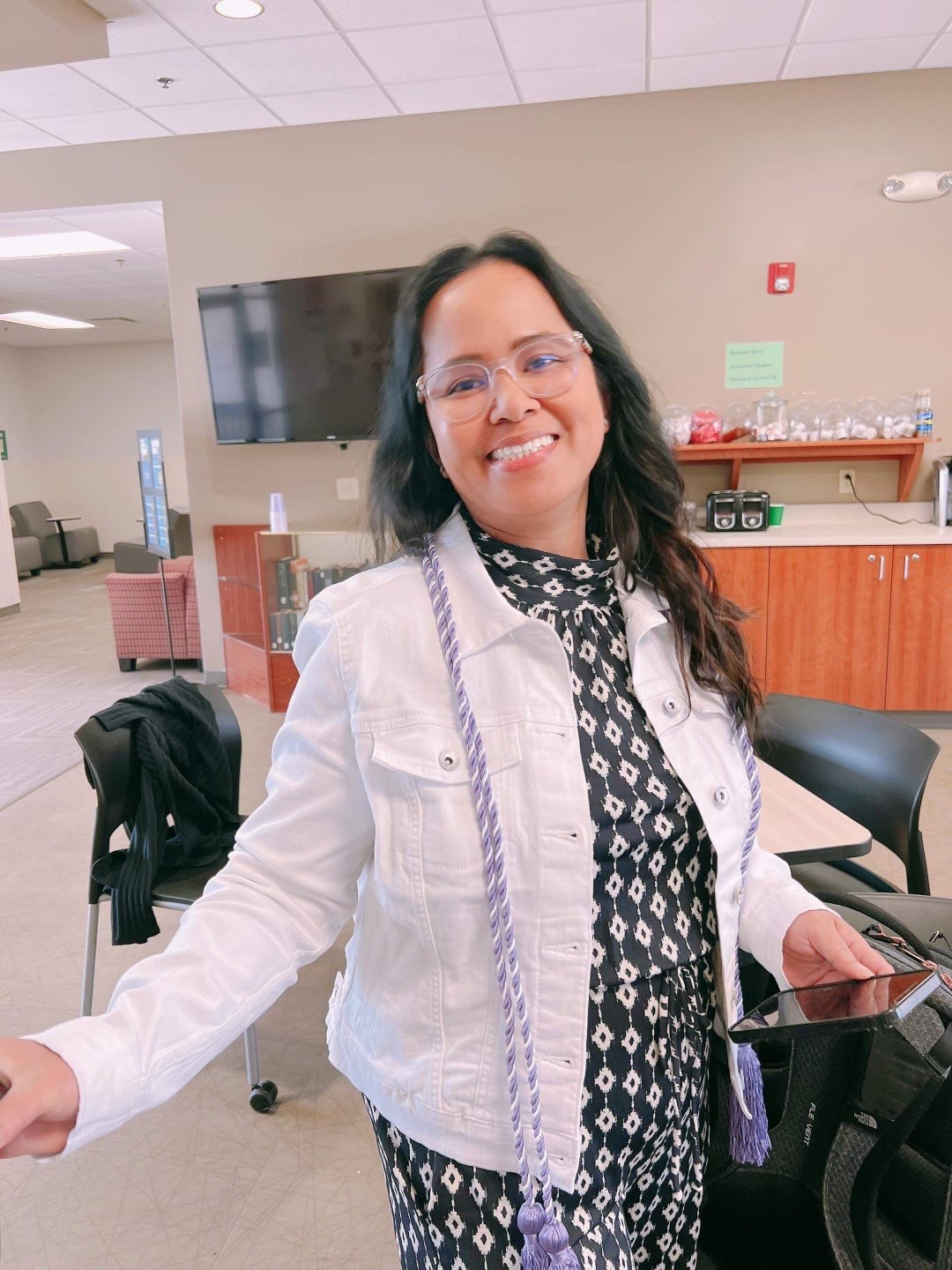 A 40-year-old mother of two, Joan Selhost may not be a traditional nursing student, but caregiving has always been a way of life. Growing up with a tight-knit family in the Philippines, Joan says people in her homeland are expected to look out for loved ones throughout the entirety of their lives.
"Culturally, we're caring people. When I was younger, my grandma had a stroke, and we all took turns supporting her. She would rotate living between our house and my aunt and uncle's. The grandkids would take her for a walk every morning, so she could have sunshine and fresh air."
When Joan joined her husband in the Midwest 12 years ago, she left behind her loved ones, including her parents, five brothers and a close community of neighbors. A lighthouse keeper for the Navy, Joan's father was her role model. Although he's since passed away, he taught her about hard work, the value of an education and reinforced the importance of caring for others —lessons Joan took to heart.
About a year after having a child of her own, Joan was eager to start working and got a job as a housekeeper. Her desire to try health care came later and from an unlikely source.
During routine outings to grab odds and ends at her local Walmart, Joan noticed the number of elderly people shopping alone. It was different than what she was accustomed to, and the sight inspired a career move.
"It was hard for me to see and understand. In the Philippines, we care for the elderly and don't really have nursing homes. I just thought, 'Where is their family? Why are they alone?' I thought, 'This place needs nurses.'"
It was then that Joan's career at UnityPoint Health began. She signed up for a course to become a certified nursing assistant and, shortly after, joined the team as a patient care technician in the rehabilitative unit. It was a placement she loved, because she was able to help senior patients rebuild their strength after surgery. It also served as a daily reminder of why she was originally called to health care.
"It was so rewarding, because when they came to our unit, they were so sick. But when they went home, they were better, and we got to be part of that," she says.
Joan's experiences as a patient care technician catapulted her professional interests, making nursing the next stop in her career journey.
With an associate degree from the Philippines already under her belt, Joan enrolled in a local UnityPoint Health college to become a registered nurse. To ensure she could focus on school, her husband retired from his career and transitioned to caring for all the household chores and their two young boys full-time.
When classes began, Joan says instructors ensured first-year students knew about scholarship opportunities available to them. Busy with a full class schedule, the idea of adding anything else to her pile of responsibilities initially felt overwhelming and out of reach for Joan.
"I thought, I'll just have time to apply for one, and I certainly didn't expect to get it," she says.
The scholarship Joan received was reserved for UnityPoint Health nursing students with diverse backgrounds and underrepresented populations in health care.
In her winning application, she wrote, "Achieving a nursing degree this late in my life took a lot of support from my husband as well as my own courage, convincing myself I can do this and it's possible. I'll push through and keep working towards success each day for my family. Becoming a nurse will be a great achievement for a minority mother like me. My boys, and my whole family, will be so happy and proud of me."

Erick Recinos, diversity, equity and inclusion program manager, says supporting nursing students with culturally unique perspectives, like Joan's, is what helps create easier and more personal experiences for UnityPoint Health patients.
"It's helpful when you have a workforce that understands the cultural challenges and experiences of our patients. People with diverse backgrounds have a different view of health care, how they engage with it and view overall care plans. That's what makes these scholarships so important, because it's on us, as a health system, to support different perspectives that, ultimately, build trust with our communities," he says.
When Joan found out the scholarship was hers, she says, "Coming from the Philippines and adjusting to a new culture, it made me feel like I belonged — like somebody included me. I felt so special, especially because so many scholarships are made for people who are right out of high school."
Joan is the first recipient of the diversity, equity and inclusion scholarship and is eager to bring her experiences as a Filipino to patient care.
"It's important for patients to have caregivers who look like them, because we can relate to them in a way not everyone can. It's comforting," she says.
With Joan's immediate family living abroad, she says she's found a sense of home with her UnityPoint Health co-workers.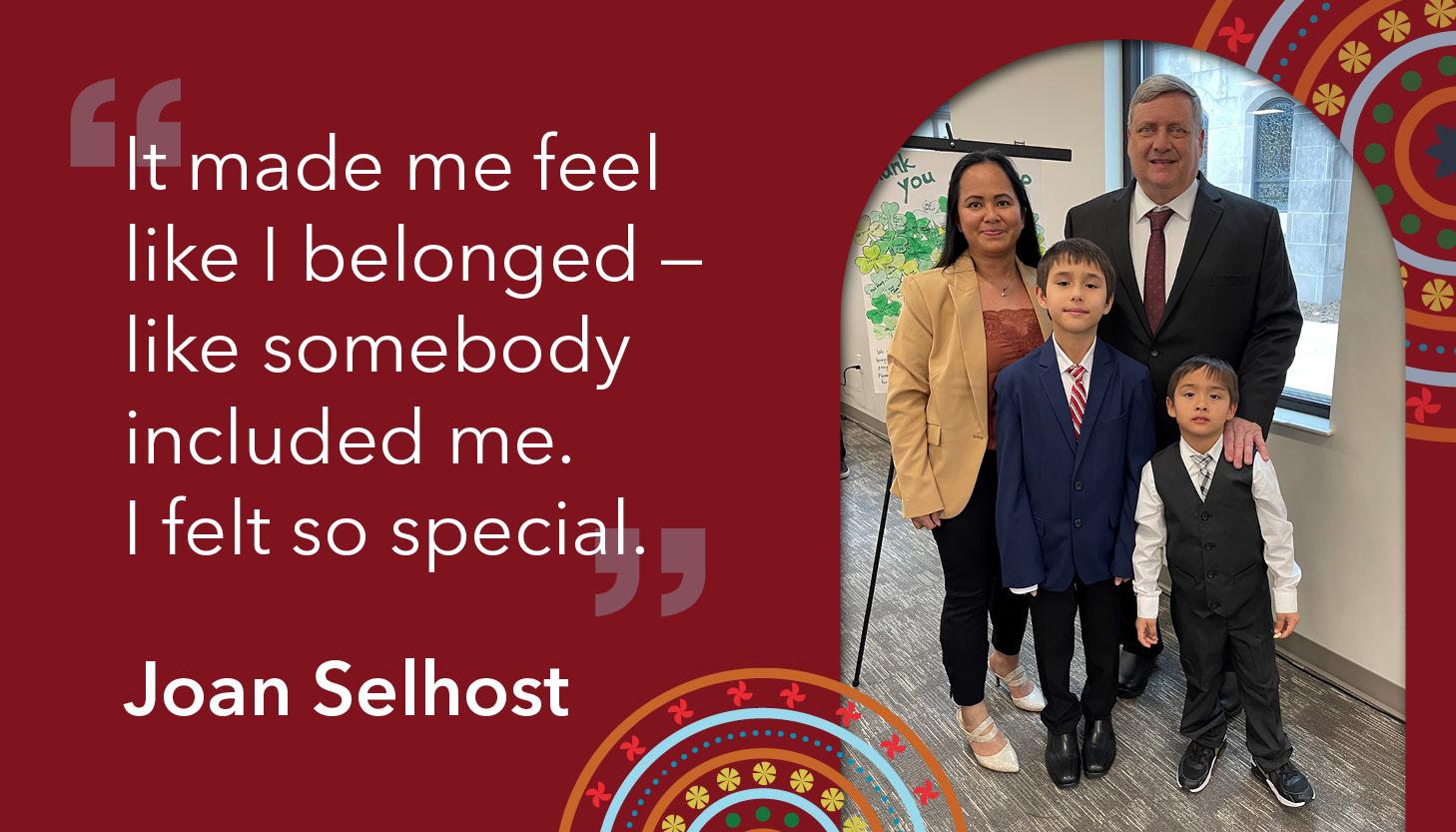 "Wherever I work, it's about the people. I've worked at UnityPoint Health for a while now, and your co-workers feel like family here. It's a home-y and welcoming feeling. You connect, you bond and your team makes you feel like you belong."
When Joan graduates in August, she'll join the UnityPoint Health nursing team full-time and will also be the first of her siblings to receive a bachelor's degree, an accomplishment she knows would have made her father proud.
"My father will be looking down on me from heaven with a smile on his face. My achievement is my whole family's achievement. I like to think that by pursuing my dreams while raising my
children, it'll make them take education seriously. I hope they'll realize nothing is impossible when you work hard enough. I want to be their role model like my dad was for me," she says.
Join our Team
When you select UnityPoint Health for your career, you're choosing to make a difference in someone's life — every minute of every day.