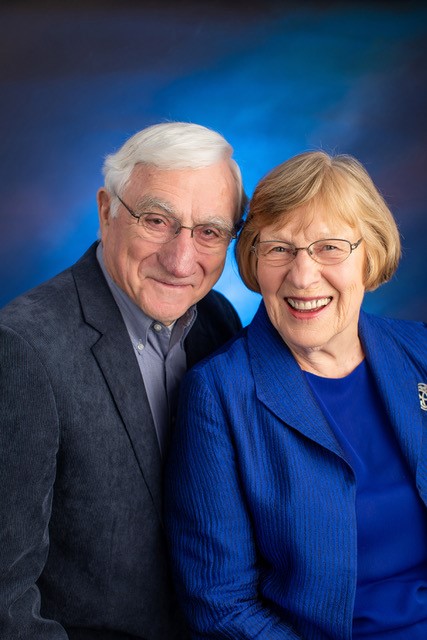 In a world often marked by self-interest and personal gain, there are individuals who stand out as beacons of hope and compassion. Willard and Kay Jenkins, admired Gerard Circle members of the Allen Foundation since 2016, are prime examples of such extraordinary philanthropists. Their unwavering commitment to local healthcare and education has made a mark on their community, encouraging others to follow their path of selflessness and generosity.
Willard retired from John Deere in 1993 after 35 years in various product engineering and planning positions. He was elected to the Iowa House of Representatives in 1996, retiring in 2006. Since then, Willard has chaired the Western Home Board, the Iowa Commission for Aging, been President of Cedar Falls Rotary and is a member of Cedar Valley Legislative Liaison committee. Kay taught kindergarten before becoming a volunteer for many organizations including the Family Children's Council and Foster Care Review Board. She was also a clerk in the Iowa House of Representatives from 1997-2007.
One of the most remarkable aspects of the Jenkins' philanthropy is their focus on local causes. They understand that real change often begins in one's own backyard. They have contributed to several health, services and educational organizations in addition to UnityPoint Health. They especially appreciate how UnityPoint is spread out across the community and not one central location.
Kay shared parents and community have been a great motivation factor, adding her parents and Willard's were friends, both giving and very involved in their communities. Supporting their community is important to Willard and Kay because it is contagious. Kay says they give back because "It brings together the past, present, and the future. You too can help - it doesn't have to be a million dollar check to support something you are passionate about."
The Jenkins have been married for 64 years and have 4 children, 12 grandchildren, and 8 great grandchildren. Together they enjoy golfing, skiing, traveling, gardening, and entertaining.
Willard and Kay are honored to be members of the Gerard Circle. Over the years, they have heard great stories about his philanthropic efforts and how much he supported local healthcare and education. They serve as shining examples of how philanthropy can be a force for good. Their dedication to local healthcare and education has left a profound impact on their community, creating a legacy that will endure for generations. Their actions will encourage others and serve as a reminder of the incredible power that lies in the act of giving.
Donate Today
Your generous support is helping us spread our mission to improve the health of the people and communities we serve. Thank you!